Seems to me there has been some serious crisis management going on at the HSUS.

From the Best Friend's Website:

A meeting of the minds


The Humane Society of the United States on February 23 issued an interim policy recommending all dogs be evaluated as individuals, and is calling a meeting of leading animal welfare organizations concerning dogs victimized by dog fighting.
[...]
Wayne Pacelle, chief executive officer and president of the Humane Society of the United States, suggested the meeting of major stakeholders in Las Vegas to work through the associated issues. This meeting is in response to concerns expressed by Best Friends Animal Society in December 2008 regarding HSUS policies related to animals confiscated in dog-fighting busts. [1]
[...]
Pacelle said the meeting, scheduled for April, will include the participation of national stakeholder organizations that deal with pit bulls. [2]
[...]
The new interim policy announced by the HSUS, pending the outcome of the meeting, recommends that local law enforcement and animal control evaluate such dogs as individuals rather than as a category before any decision is made regarding their future. [3]
[...]
We expect government, corporations, and individuals to constantly re-evaluate how they deal with animal issues," Pacelle said. "Likewise, we regularly review our own policies and procedures here at HSUS, and we think it is important to talk with professional colleagues in the movement to examine issues related to the disposition of fighting dogs."
I've got to point out a few things
:


1) The HSUS is calling this meeting in response to Best Friends expressing concerns over HSUS policies?...what the hell?
The HSUS claims to represent 10.5 million people. So, am I to believe that none of the HSUS faithful are pissed off and concerned about this latest debacle? Not very likely.
Does it really take the concern of a "professional colleague", and competition for membership dues, for the HSUS leadership to start talking about making changes? Again, what about the 10.5 million and their concerns?

I have a strong suspicion this week has seen a decline in membership for the HSUS, and yet they're prepared to ignore the folks that are already sending'em money.
Watch out, Best Friends, I hope this isn't just a plan to steal your play-book.
2) National Stakeholders. I am dying to know how the HSUS defines the pit bull's National Stakeholder. Any chance my name is on that list? Doubtful.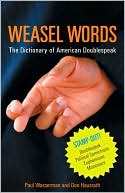 3) Plenty of weasel words ("interim policy" and "pending the outcome") in the HSUS' new policy for recommending that all "bust dogs" be evaluated....and why the hell is this a new policy?

In short, they've got a built-in "out clause" that'll allow them to revert to their old ways once the pressure dies down.

Alright, enough of the railing.
I think this is a fine time for pit bull advocates to express their opinions to the HSUS, Best Friends, BADRAP, and the other (unnamed) "national stakeholders."
Honestly, I don't know what type of outcome to expect from this meeting.
And since it's scheduled for this coming April, a lot can happen between now and then...and I tend to believe that Wane Pacelle is hoping that some of the heat is taken off his organization by then.
A notion that will greatly influence the tone of April's meeting.
Related Blog Posts: